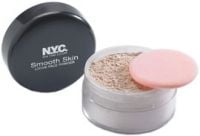 EXCELLENT QUALITY FOR THE $

This is the best inexpensive mineral like powder in the drugstore today. The quality is fantastic for the price. I got mine for about $2. I got it a month ago, and i feel like I haven't made a dent in it! There is no anoying scent, it doesn't have glitter, and the puff it comes with is actually decent. I use my own brush to apply this, because It's just a preferance thing, but I kept the puff. The...read morere is so much product in the jar, I just couldn't get over it. I love that it controls my oily t-zone throughout my work day without any touch-ups. I just can't complain about this at all.. There are no cons to this! It's so blendable and it will blow you away!

Inexpensive Cosmetic Staple

An expensive price tag and a designer label on a cosmetic product doesn't always equal better quality. As a matter of fact, NYC proves this to me. I have Laura Mercier mineral setting loose powder which retails about $32.00 and I own this NYC loose translucent powder jar that only cost a couple of dollars. My better choice is actually is the NYC because it sets makeup with a flawless soft focus...read more finish without leaving streaks or demarcation, it's an ultra soft loose powder that feels like velvet to the touch, and it's versatile because it can be used as a blot powder for any touch ups during the day, however not so convenient. The case is not a twist top jar, it just gets lifted up to expose the product but this can become a chaos because product can fall out to the sides everywhere or fly around. I don't recommend any usage with that coarse sponge puff it comes with, this is most best applied with a large powder brush or a kabuki. For midday touch ups, I'd recommend investing in a velour puff or something more softer and sturdier than the application this originally comes with. Another con is that this should always be stored upright because once product passes through the sifter, it stays mainly atop the barrier and a pile of product basically sits there making messes a more frequent occurring incident.

Fantastic

This is a great product at any price, but the fact that it's about $3 makes it even better. This is the best translucent face powder I have used, its very fine and soft, it makes your face look perfectly and naturally matte and sets makeup very well. However, I would not recommend using the sponge that comes with it, I use a small kabuki.
Back
to top