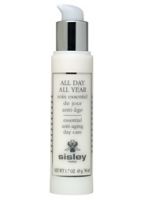 Sisley All Day All Year Essential Day Care
As low as
What was Sisley thinking???

This product is AWFUL for skin. This is to be worn during the day, but there is a minuscule amount or sunscreen. There's no way this product protects skin from the sun for 8 hours!!! Maybe 8 minutes, but even a well-formulated SPF 30 needs to be reapplied every 2-4 hours. And the magical antioxidants are a joke!! The juniper, sage, and thyme are irritating to skin. They don't repair skin...hey dam...read moreage it. And why is this $400??? Wow! You can get a well-formulated moisturizer (with a decent amount of sunscreen and antioxidants) for around $20. I'm disappointed in Sisley. They just prey on desperate, uninformed women, and that's just despicable. Every women should do the research and find a better daytime moisturizer...not this one from Sisley.

JUST THE BEST

I love this light cream, it moisturizes my skin with a really soft and comfortable feeling, and protects it from free radicals in 80%. Very expensive but it really worth!!!

Nice moisturizer

Not as rich as the global anti aging, gives skin just enough moisture. I would have given a 9 if the price were more affordable.
Back
to top