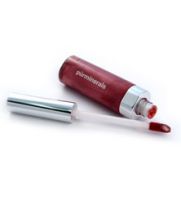 Hmpf....

I know that lip glosses aren't meant to last for a long time, but this doesn't last more then 5 minutes on my lips. As pretty as the colors are in the tube, not so pretty once it's on and settles into the lines within and around my lips. The colors are vibrant and pretty, it just doesn't last...and it definately does not plump!

too much $

Pro's great colors, makes lips soft, enough but not too much shine, not sticky or tacky, no bad scent con's Does not last must be applied all the time, does not plump, does not do what it says it does I can find other glosses that are equally nice for a lot less $$ some that will plump too, it is a good product but not what ot says it is.

Great gloss!

Pur Minerals really impressed me with their eyeshadows, and I'm happy with their lip glosses too! They have the right amount of color on the lip, stay glossy, and don't get gummy or sticky. While I can't give an account of any "pout plumping" from the glosses, I can say they are pretty moist which will contribute to a plump pout. Let's take a look at 3 of...read more the colors– Bronze Sassolite, Copper Canyon, and Pink Opal. To the pout plumping claims, I will say this– these Pur Minerals Lip Glosses contain Maxi-Lip which is a patented plumping peptide that results in a cumulative effect. I obviously haven't been using these long enough to speak to those claims, and I want to be fair. I'm curious if you gals have– so email me or leave me a comment and let me know! I do enjoy these glosses and if there was one thing I could change it would be the flavor/scent. I really don't mind… they are SO pretty! I've been impressed with everything I've tried from Pur Minerals recently, my Spidey-sense is picking up on some future purchasing going on here.
Back
to top