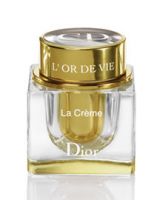 Dior L'Or de Vie - La Creme
As low as
Outlandish claims

Let us say from the start that reviewing any product with this price tag just makes me hate the cosmetics industry. It is such a blatant joke I can't imagine how the marketing people and chemists involved in this product sleep at night. Okay, having had my little tirade, the claim that this moisturizer combines the best anti-aging ingredients with the powers of L'Or de Vie is true only in the ...read moremind of Dior; there is no research proving any of that claim is true. And, for this amount of money there should be some proof somewhere because prescription medications that cost far less require piles of documentation. L'Or de Vie is supposedly a unique French vine that is harvested at its peak and goes through a multi-step purification process to extract every bit of this vine's regenerative essence. The vine doesn't have regenerative properties for skin, but if you're going to charge such an outlandish amount of money for what amounts to a basic moisturizer, then you need this kind of story for support. As usual for Dior products, the intriguing ingredients comprise very little of the formula. There are some good ingredients in this moisturizer, but none of the proven ones are unique to Dior, nor are they present in amounts that come close to justifying the price. Bottom line: this falls far short of offering a selection of "the best" anti-aging ingredients. It's little more than a vastly overpriced moisturizer for dry skin. Even more pathetic, the jar packaging will render the few antioxidants this does contain ineffective shortly after the product is opened.

WORKS!!

. I am a skincare specialist for 30 years, and KNEW there was no reason in this world to fall for such a gimmick, and pay such an outlandish price...WELL I have been proven WRONG! I used samples for 2 weeks. At 5 days I noticed a difference on my face and neck. at 10 days it was becoming noticeable enough for co-workers to say something. At 2 1/2 weeks...lets just say I am really impressed, and wi...read morell fork over the $ for it...lots cheaper than lazers, injections, knives etc. I really believe this is the (exscuse me) holy grail of skin care/results.

This really works

I was very surprised because I am a La Mer user these past 6 years. But I must admit, Dior really has produced a nice cream. The real secret is to use the L'Ore de Vie serum underneath and the results are very nice. Great hydration, but not greasy. I am starting to lose some firmness and I noticed a nice tightening on my neck and chin area. The eye cream seems to be smoothing out my "crinklies" and brightens a bit.
Back
to top