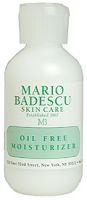 Mario Badescu Skin Care Mario Badescu Oil Free Moisturizer
As low as
It's Kind of Boring...

While Mario Badescu products are one of the best acne fighting systems I have ever tried, this oil-free moisturizer didn't stun me at all nor leave me incredibly satisfied. It's a plain mundane medium priced moisturizer in a bottle that my Neutrogena oil-free sensitive skin moisturizer can outperform. Also, the gripe I had with this moisturizer was that it left my skin feeling a bit greasy and th...read moreat's a definite sign that I need to skip it and either use something else or drop this product all together. If you really like the Mario Badescu line and need all their items, this can be a staple for you to have as an every day moisturizer. It is lightweight but I still didn't like the texture on my skin, personally.

Great Product!

I really like this product because it not only has a high SPF (for a moisturizer), but it is gentle enough for my sensitive acne prone skin. This product lasts a really long time (using a little goes a long way!). Although this product does smell like sunscreen, it does not get cakey or clog up your pores which is just what acne proned skin needs! This is my favorite moisturizer by far!

Feels like Vaseline

I really don't like the texture of this product. It feels like applying Vaseline on your face. It doesn't feel that greasy after the skin absorbs it, but it doesn't feel moisturized at all. My face felt a bit tight.
Back
to top