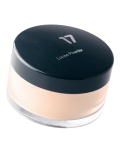 Boots 17 Loose Powder
Like it!

Price was okay...wish it would go on sale. My Target only carries translucent so that's what I got. The powder is super fine, silky and does a good job of setting makeup and creating a matte finish. Also, good for touch ups. I like it!

Good Loose Powder

I bought this for $2.98 at Target. The retail price was $11.99. I would never pay that much for makeup, I just don't think beauty should cost that much, but this power is definitely worth the $2.98 I paid for it! It goes on smooth and seems to last all day long. Wish I had the money to purchase the foundations and other products!
Back
to top