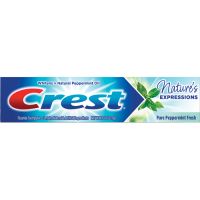 Nature's Expressions Gel Toothpaste

I had my family try this because it was natural and made by Crest (our preferred Brand). We all agreed this did nothing for our breath, our teeth didn't feel truly clean, and the taste was awful. We went back to Crest with Scope!

really good toothpaste

fresh soft clean! loved how it wasn't overbearing with the usual mint and flouride [taste] yet providing all the same benefits as the regular paste and gel brands. Super GENTLE!

Nature's Expression leaves a natural feeling

I was pleasantly surprised by the subtle flavor. No harsh taste here! I actually brushed twice!
Back
to top