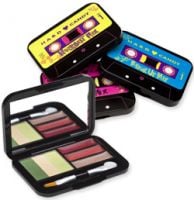 Editor's Rating & Review
This insanely cute compact will go perfectly with your Bon Jovi collection. Tiny trios of semi-sparkly eye shadow and lip gloss inside recall the '80s in the best possible way, though without long wear. Neutral colors like beige are teamed with subtle punches of red, pink, blue or green. The tiny half-lip brush, half-shadow sponge applicator is easy to drop, but a necessary evil. Applying with fingers is challenging as color windows are narrow and very close to one another.
Reviewed by Charli on 02/01/2008

How we review products
Messy?

I haven't tried this one, but my experience with shadow/gloss sets is that the shadow gets in the gloss and makes it practically unusable after time. Anyone have this problem?

very cute and stylish

love hard candys colors and thier products are fun

Cute

This is very cute but very small. I got the neutral colors...lip gloss is the best part of this set. I love hard candy eye shadows because the color pay off is great...but in this kit they fall a bit short. Still a cute gift.
Back
to top