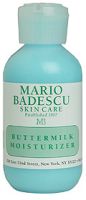 Great for hands

I love the way this moisturizer smells and wanted to love it on my face, but something in it congests or bothers my skin. I always break out when I use it, which is why I'm removing three stars. However, it is marvelous on hands! The lactic acid helps repair dry skin and protect nail beds and cuticles, too.

Blackheads gone

This moisturizer is great! After using it for three days I noticed the blackheads on my nose are gone, probably from the AHA. I would've gave this moisturizer a 10., but it does dry my face out after a few days of use. I just rotate using a face cream at night.

a good light moisturizer for the night

i have dry combination/sensitive skin. i use this one with the seaweed lotion. It has a very pleasant smell:) my fiance loves the smell he said it's so fresh and clean. I only use it at night so i don't know if it layers well with makeup. What you might wanna know is: it does not moisturize enough if you are using mario's acne products since they dry your skin. You need a good cream if you are using the acne line!
Back
to top