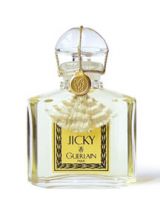 Guerlain Jicky Parfum
As low as
Absolutely Delicious!

I agree with others - the history and back story on this perfume are fantastic - for good reason. This is just one of those fragrances that makes you feel 5 pounds thinner, like you are having a perfect hair day, or found the hottest pair of brand new Christian Louboutain heels for under $100! This fragrance has the versatility to be all things to all people - and I love it! So I won't mind if you...read more don't believe me - more for me, and it means all the men will be thinking about me instead of someone who isn't wearing this perfume...

It's been around this long for a reason!

I love this scent - I love its history, its backstory, its versatility. This is an every day, every season, all events kind of scent - it always seems right. It's refreshing but substantive. I love the citrus burst in the beginning - what a great way to wake up in the morning! and the lavender based dry down is a delight. This reminds me of the old commerical for Secret deodorant: "Strong e...read morenough for a man - but made for a woman." Men could certainly wear this, but it's not a masculine scent. Just a delightful one. I prefer the EDT to the perfume, oddly enough - it's a bit lighter on the civet - but any form of this scent is an investment worth making.

My LOVE!

Jicky is my Holiest of Holy Grails. I am glad more people can't wear it or don't like it on themselves as it leaves Jicky to be mine and my signature scent. I find I like the top note better in the parfum and it lasts so much longer. And I ADORE the dry down in the parfum. Magical. On me I smell the lavender, some citrus, and the civet. I personally love all of these on me (as does my husban...read mored). I find that Jicky stands up to my personality as I cannot wear "white florals" or anything too sweet. I absolutely love both of these on others, but on me they come across too...something that I can't put into words. I need the "presence" of Jicky.
Back
to top