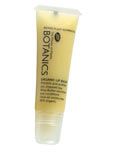 Boots Botanics Organic Lip Balm
Lip heaven!

This organic lip balm is so good to my lips. It's very smooth and creamy when you apply it but my lips suck up all the goodness. Hydrates and conditions my lips well. Loving it!

Horrible consistency

I just purchased a tube of this lip balm and when I put it on my lips, it had a gritty consistency! I thought perhaps it separated while sitting on the shelf, so I squeezed out about a quarter of the tube onto a tissue, then put the cap back on and began kneading the tube in an effort to mix it. However, when I tested it again it still came out grainy, like there were sugar granules mixed in with ...read moreit that didn't blend. Perhaps I purchased an old tube, but I didn't find the consistency to be creamy at all. Very disappointed.
Back
to top