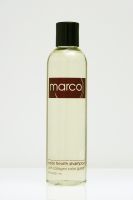 Marco Pelusi Marco Color Health Shampoo
As low as
Editor's Rating & Review
This shampoo combines the feel of a clarifying formula with the nurturing power of a color-treated formula. Though described as "moisturizing," it doesn't have the creamy, Pantene-esque look and feel you might expect (which isn't necessarily bad). You may need more than a quarter-sized dollop to get overall distribution (not exactly budget-friendly), but if used well and often with Marco conditioners (more budget), hair and color should appear much healthier. The light, pleasant herbal scent (a rosemary, clove and peppermint blend) isn't my favorite of Marco's -- but it could be yours.
Reviewed by Charli on 09/15/2008

How we review products
Good Shampoo But Not Worth The Price

I tried this shampoo after my stylist suggested the line for my color treated hair. I really liked the simplicity of the bottle, with it being see through, and it just seems clean looking. It did have a fresh, clean scent as well but I despise the smell of peppermint and there was a faint scent of peppermint which I could have done without. I had to use the double of the amount that I usually u...read morese with more expensive hair brands. It did clean my hair nicely and it seemed to be good to my color, not washing it out at all. There wasn't much lather so I was glad that it did clean. I had actually seen a television report where they said that the lather is not needed for a great wash so I wasn't too worried but I know some people would be. I think this shampoo works well but no better than the color line that I use from the drug store for 1/4 of the price. When a regular size shampoo bottle is over $20 then I expect hair miracles.
Back
to top