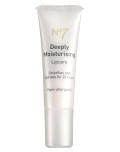 Boots No7 Deeply Moisturising Lipcare
Not that great

After using this product for one week, day and night, I just don't understand the other reviewers comments. I have to have moisture on my lips 24/7 and this just didn't cut it. It sinks in and is invisible, but didn't moisturize as much as I needed. Perhaps it's not for over-40 use?

The Best

If you are wanting a smooth, moisturizing balm, this one is perfect. It applies smooth, the scent and taste aren't offensive and the magic it does for your pout is utterly amazing.

the BEST lipstuff i've EVER used.

i will NEVER use ANY other lipbalm again. i won't need too, this stuff is what i was always looking for and was starting to think did not exist. it barely smells (just a little bit clean), and is not sticky. it's light and a little creamy but not thick and gross. i'll never use anything else again.
Back
to top