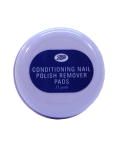 Boots Conditioning Nail Polish Remover Pads
Boots Moisturizing Nail Polish Remover Pads

These are the most amazing NPRP. One pad removes polish from all 10 nails, and leaves my nails totally moisturized. I have yet to find them in the US - had to buy 20 when I went to Ireland, but I gave too many away (everyone loves them) - need more. I guess I'll have to go back to the British Isles!
Back
to top