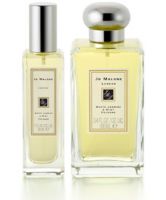 Guest's Rating & Review
This fragrance by Jo Malone is a refreshing scent that's light enough to layer yet inspiring enough to wear on its own. The use of wild rose, chamomile and jasmine will make you feel like you're walking through an English garden, but it finishes with an edgier scent. Rich, contrasting notes of vetiver, musk and cedar wood become obvious as the fragrance wears on your skin, making it equally appealing to those who prefer a less floral fragrance.
Reviewed by special guest on 04/30/2008
Lily Mohammady

http://www.beautymaverick.typepad.com
Great layering perfume...

This cologne is in my perfume collection. I have several Jo Malone colognes and I this is in my top five. This is probably best worn during spring or summer time since it is delighfully crisp smelling. The jasmine undertones remind me of long hot summer nights. It would pair well with french lime or orange blossom. It may even pair well with 154. Have fun experimenting with layering the different scents. That's the beauty of Jo Malone!

Rancid Flowers

I recently purchased a large bottle of this cologne at Nordstrom - I was so excited to finally find Jo Malone locally. After some thorough sniffing I settled on this scent since I love mint so much. I'd sprayed it on in the afternoon, but early the next morning I woke up to the scent of rancid flowers. It was me! Clearly my body chemistry does not work well with this cologne.

Spray it everywhere !!!

but dont worry, it will never overwhelm you or the next person ... I absolutely love this cologne, spray it around the house, on my sheets, on myself, carry a small bottle on my handbag, spray some more when I swing by Jo Malone's counter at Aventura's Bloomies ... I may sound crazy but it is refreshing and at the same time luxuriously delicious. My boyfriend loves it !! Works well layering with orange blossom too.
Back
to top