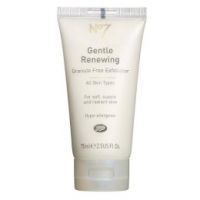 Boots No7 Gentle Renewing Granule-Free Exfoliator
This is my new favourite skincare product !

This is a great exfoliator, left my skin soft and plump after first use. Hands down it beats any microdemabrasion or exfoliating treatments I have tried at home before. It takes longer to use than a facewash as it has to be massaged onto wet skin so is more like a mini facial. After using it twice a week for a month have found that my skin looks brighter, smoother and supple. Even the slight fine...read more lines I am beginning to get around my eyes have reduced (I did not expect that at all!). I am not sure how effective it would be on older skin. I have given one to my mother who is in her 50's, so maybe she will review it for her age group. Little bumps and clogged pores/ blackheads have drastically improved, however this is also down to the facewash that I use which is Biore warming blackhead fighting cream wash. It cost a bit more that I would usually spend on such a product (around £12) and I thought I would try it seeing as I had a skincare voucher for Boots and got it for half price. I am so pleased that I did, and I think it is great value for money. I would definitely recommend this product for women in their twenties/thirties to smooth and refresh tired dull skin, It is the best exfoliator I have ever used and is gentle on my sensitive skin. I am surprised that more people have not heard of this product!
Back
to top