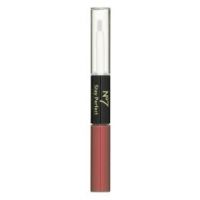 Boots No7 Stay-Perfect Lip Lacquer
Lacquers too well

Wow, this stuff is near impossible to take off at the end of the day. The color goes on well, but if you make a mistake, you have mere seconds to fix the error before it's just about permanent. This stuff lasted all day, thru eating, drinking and talking and with the gloss my lips didn't dry out. Even after two different makeup removers and face washing there were still spots of color on my lip. Use this when you really need your color to stay!

It's all in the name

We've all read, and bought, lipsticks that promised to stay on through meals, kissing, drinks, what have you. Let me tell you, ladies, this one delivers what it promises. I've been looking for a good replacement to my every day lipstick and the color of this seemed like it might be a good match. When I got home I applied it right on the minute I sat down, without a mirror. Boy what a mistake t...read morehat was. A TINY bit outside of the lines and by the time I got to the restroom mere seconds afterward to check the color, I could NOT correct the mistake. While the color wasn't as good on me as I would have hoped for, even just the color does have a pleasant smell and the gloss is a nice consistency and has a nice aroma to it as well. Since putting it on I've eaten a dinner of pizza, drank several glasses of water and showered my 4 year old with kisses and it's still going strong, and unfortunately so are the mistakes. Use this WITH CAUTION, but if you find a color you like and have a steady hand, one application may very well last you all day long.
Back
to top