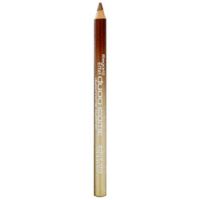 this pencil = blurry vision!

I wear contact lenses, and whenever I use this pencil I think it gets into my eye and gets some kind of residue on my contacts, and my vision gets all blurry...I have this pencil in blue, and I like the way it goes on, but if I do the rims of my eyes I can't see like an hour later! It doesn't seem like it wears for very long either. And I'm not happy about it, because these pencils are NOT cheap.

Nice!!!!!

I got mine in the green color... I don't know the real name for it... Well anyway, its a great color for parties because its sweat-proof for me and also its such a shimmery, bold yet beautiful color. Thoroughly recommend although I haven't given it full marks. That is just because I don't suit green as much as colors but that's just me...

oh em gee

I got this in Violet Rose as a gift for my sister, and she let me try it on out of curiosity...wow! It's one of the most uniquely colored eyeliners I have tried, and it stays on for a loooooooong time...your eyes will be noticeable from afar with this liner, mine was even visible on me in photos! The color is multifaceted and changes depending on the light and how you move...one thing her and I ag...read moreree on: at least with the violet rose shade, try to layer it over a black eyeliner, especially on the lower lid - or else it might look kind of like you have pinkeye!! Layered over black it becomes a different color, really intense and beautiful...sadly none of the shades suit me personally, but really wonderful idea and execution from Bourjois.
Back
to top