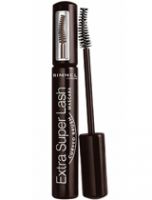 Review subject

I remember that I bought this Extra Super Lash Curved Brush Mascara from Rimmel London and it happened a while back, perhaps 7 years ago. Is it such an old product surviving the market with the new trends?! However, I made my decision based on the fact that I was not really having money to spend on make up, I was kind of broke. So, the cheap price of this Extra Super Lash Curved Brush Mascara from...read more Rimmel London seemed a good deal at that time and it convinced me to pay the 4$ and take it home. I usually do not like new mascaras, new as when it is freshly purchased, not as a new choice that you had to make by changing an old, different mascara that you were using priorly. So I was sayin that I do not like new mascaras, and I did not like this Extra Super Lash Curved Brush Mascara from Rimmel London too, because they tend to have to the brushes too full with product. You have to somehow clean the brush around the opening of the tube, especially the top of it because it will mess on your face, in the corners of the eyes. But then you make a mess around the opening of the tube, and I like to keep the recipients of my make up products clean, so this bothers me a little. After a while, the consistency and the ammount of the product is just right and it gets easier and pleasant to use it without feeling your lashes too heavy with mascara and messing around the eyes. This Extra Super Lash Curved Brush Mascara from Rimmel London does clumps and smudges around the eue but not too bad that you cannot use it. One thing that I do not like, again generally and it applies to this mascara too, is the bad bad smell. I totally dislike the smell of mascara. But for the small price that I paid, I think this product is okay overall. I mean is not too bad and not that good to make it a favorite or to wish even to purchase again. It was a cheap mascara that served its purpose at some point, but there are many other mascaras that can be purchased at a small price and of a better quality. One example are the Maybelline mascaras. Those mascaras are os such a superior quality although the brand is affordable in therms of the price of its products. I am totally in love with their big, fat mascaras. They are a good alternative to any other low cost madcara, even to the high priced ones. I found myself liking them almost as much as I like Diorshow mascara and that is a great mascara with a great cost too! One thing is common for all these mascaras that I have mentioned: they have the traditional hairy brush which I prefer to the new plastic brushed, I cannot stand this new trend for plastic brushed. The effect of a mascara is clearly diminished when having a plastic applicatior, in my opinion. I cannot get used to them!

junk

I don't have very good luck with any of Rimmel's products. I want to like them because of the cool British factor, but none of their products perform like they should. This mascara is no exception

Allergic

I bought this on sale, it went on alright though a tad thicker than I would have liked. My major complaint was that it really burned my eyes! My eyes were so puffy after wearing, I had to take a benadryl. I'm sure it's a pretty good mascara for someone else, just not me.
Back
to top