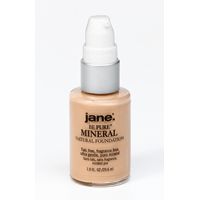 Jane Be Pure Minerals Liquid Foundation
As low as
bought it for my sis

shes a big diehard liquid foundation girl and i just couldnt get her to use the mineral stuff im such a huge advocate for, so when i found this i grabbed a handful of them and gave them to her. its so gentle, it doesnt aggravate her delicate skin, [shes sensitive like me] and covers well, with a dewy finish. great mineral alternative for antipowder ladies. oh, ps, contains mineral oil, if youre sensitive to that one thing, beware, but we havent seen any ill effects, only benefits!

Ewww

I bought this stuff on sale, thinking I would give it a try. Everytime I put this stuff on, it would clump up on my skin and fall off! What would stay on, was in streaks! Not worth my $1.50 I paid for it!!

only minerals-mineral oil!

The only thing about minerals here is mineral oil! Greasy and too sheer! I Love some sheer foundations, but this one isn't worth your time AT ALL!!!