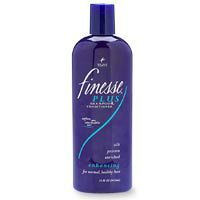 OMG!

I love this stuff, it's cheap and I have gotten more compliments on my hair since I started using this stuff! it's cheap and easy. I have found in the past with most 2in 1's I need to use a separate conditioner, but not with this, I just "wash and go" and use a little mousse and some (finesse) hair spray and I am good to go out the door! My hair looks full is full of body and smells ...read moregreat! I use this daily and am very pleased. Works for my normal, colored hair perfectly! I usually use Goldwell but find that the price is hard to swallow for that stuff, so as long as this stuff works and I can find it, I will use this !!! I never would have tried this finesse stuff w/o this website, so I am glad that I read previous reviews and gave this a try!

Wow

I was so surprised to read these reviews. This dried my hair out so much when I used this alone without any conditioner. I do use a straightener on my hair which could be why.

Really like it!

I use this shampoo ,as does my daughter. We both like the way it smells and its lather. The conditioner in it actually works unlike many 2 in 1.
Back
to top