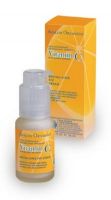 Avalon Organics Vit C Revitalizing Eye Cream

After being really impressed with the AO Vit C Toner, I thought I'd give this eye cream a try. It does feel very smooth and soothing. I let mine 'soak in' before putting eye makeup on, not that it feels greasy. A little dab will do ya, so this should last for quite some time. I appy it to my upper lid and under my eye. I haven't really seen any great improvement. But, to tell the truth, I don't ...read morereally have lots of wrinkles or dark circles. I do like how it feels, the smoothness of the cream and the price is reasonable. I'll continue to use this everyday, even when I don't apply makeup. Goodness knows, it ain't gonna hurt!

Awesome eye cream

This eye cream is fantastic. It's light and creamy, yet very moisturizing. I noticed a decrease in puffiness and dark circles within 2 weeks. Also, it's not greasy so I can use it day or night and it doesn't smear my makeup or get into my eyes (I wear contacts and I'm sensitive to dripping eye cream). Overall, one of the best eye creams I've used, and given the low price, definitely a great bang for your buck!

i don't think it made any difference either

...it does nothing...
Back
to top