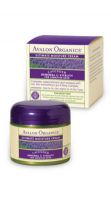 winter moisturizer

This is a very rich moisturizer. It could be an excellent option for those who suffer from very dry skin. I find that it is better suited for use on dry areas of my oily skin during the intense winter months than as full facial cream. It is not oil free and could potentially contribute to my breakouts.

Worth your money!!

I had to use something more natural after having suffered from an allergic reaction on my face. Someone recommended this one. I did not expect anything since I always buy expensive creams. But after using this for only a week I was pleasantly surprised. My forehead furrow had disappeared and the lines all over my face are either gone or softer looking. Thanks Avalon! I am even saving money and supporting an eco-friendly company!!

a natural product that soothes your skin and your senses...

It wasn't until I was in my late 20s that I really understood womens' obsession with skin moisturizers, and I finally have found a product that I love! Several years and several products later, I have found Avalon Organics Lavender Moisture Cream to fabulous for even the most sensitive skin. The first thing that I noticed about this product is the rich and silky texture of the cream. Just a litt...read morele dab left my skin feeling light and silky. I use it daily under makeup, but is so luxurious that I use it as my night cream, too. The second thing that I love is that it feels soothing on my blotchy, sensitive, combination skin. Most creams that I have used in the past have clogged my pores and triggered breakouts. Avalon Organics' uses all natural ingredients that are gentle on my skin, leaving it richly hydrated, not greasy or irritated. Third, and maybe best of all, the scent of lavender is lovely. Lavender is known as a calming essential oil good for relaxation, and this cream soothes my sensitive skin while providing a little aromatherapy treatment every time I use it!
Back
to top