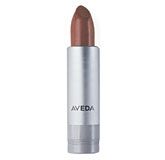 Aveda Lip Color Concentrate
Lip color concentrate

I am very pleased with these lipsticks. They have a good choice of colors. They really last, until you eat something.

Quite possibly my favorite lipsticks of all time

Aveda recently launched a new formula, Nourish-Mint Smoothing Lipsticks, and wow am I glad they did. More than that, I'm glad there are colors I can actually wear! Originally, I couldn't find any Aveda lipstick I liked. The colors were just not as "natural" as I would have hoped. I prefer deep reds and dark pinkish reds, but none of Aveda's lipsticks looked good on me. The colors were to...read moreo bright, or too purple, or too brown. Then, the new formula came out, with new colors. I tested out Cherrybud, Poppy, and Maracuja (Maracuja is an Uruku Lip Pigment). Yep, these are my reds! Cherrybud is a dark, deep, pigmented red that looks like a cranberry strain. Poppy is a lighter, pinkish red that looks like the color of flushed, jist-kissed lips. And Maracuja, my favorite is a very dark, intense shimmery wine red that reminds me of fresh pomegranate seeds. All the lipsticks contain plumping peptides, intense butters, nourishing oils, and soothing extracts. And this is what I love about Aveda's new lipsticks. Not only superbly moisturizing and nourishing, but now plumping!

rich color

This was a little more concentrated than what I am used to, but it gave a good rich color (I Used tangerine) and it felt soft and smooth on my lips.
Back
to top