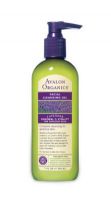 Dry Skin

I am in the process of using this cleansing gel, but It seems that it really dries out my skin. I feel like I have to exfoliate afetr I use this, and it makes my skin very itchy sometimes. I have combo skin too, and even on my t-zone (which is my most oiliest place on my face) it really dries it out. And my T zone gets very oily! It takes all the natural oils out of my skin, but it does smell very good!

Smells nice but didn't work for me

This product smells beautiful - like 100% natural lavender oil. However, it didn't do much to improve the appearance of my skin. I actually felt like my skin started to look worse while using this. I ended up using the remaining cleanser on my body because I just loved the smell. I won't buy again.

Great cleanser!

I love this cleanser, it really removes all my make-up with one pump. I don't know if it is my imagination but after using this I dab a little bit of the Avalon refreshing eye gel on my face (after all the ingr. are good) and it took 15 years of my face! It's a keeper and preps the skin for the rest of the Lavender Avalon line.
Back
to top