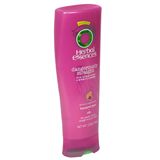 More Build Up..........

This did nothing as far as straightening for my teenage daughter's hair. My family has gone through every formula offered by Herbal Essences. We run into the same problem every time...build up. The first 2 or 3 times the shampoos and conditioners worked great and then they starting building up and giving all 4 of us (2 adults, 2 teenagers) oily roots, flakes, and frizzy ends. I know a lot of people love Herbal Essences but we don't anymore based on experience.

Does a great job of smoothing my curls

I have thick culy hair and am always looking for smoothing products. I was at Walmart the other day doing a beauty haul and this popped out at me so I decided to try it. The result was smooth soft and silky curls.

good

i like it :) it smells good, is cheap, and works!
Back
to top