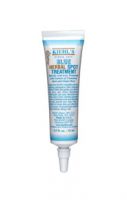 Kool Kiehl's

This stuff is great-it dries up acne on a spot basis very well and it does not overly dry your skin out or sting. It is also very easy to apply right to a pimple and is very reasonably priced. Not sure if it would tackle the very worst acne but it beats upon my moderate occasional ones just fine. Kiehl's is a keper.

Awesome

I first grabbed a tube of this going through Osaka Airport back to Korea. I had major breakouts from much needed sun cream and sweat and didn`t want to show up to work with huge zits everywhere. It worked really well! It has a cold burn when I apply it, but is very effective at stopping breakouts. I`ve also noticed that when I use it consistently the acne heals very well. It can be drying after a ...read morecouple days of consecutive use, so I always moisturize before application. One tube lasts for a really long time, so I only need to buy it twice a year. The size and packaging also make it good for travelling. A definite must in my make up bag!

Exclusively from the editors at Total Beauty

Get the Buying Guide to see these top-rated products!

Get it now »

This one's a keeper!

I don't break out very often. But when I do, I get massive, very angry looking spots that take the greater part of a week to go away. Kiehl's Blue Herbal Spot Treatment has been a real lifesaver. I find it works equally well on small bumps AND on full-blown zits. Word of advice: this product works better if you apply it diligently before bedtime every night.
Back
to top