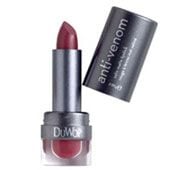 DuWop Anti-Venom Lipstick
As low as
Lovely

I purchased this lipstick at Nordstrom Rack in Blue Daisy. I've always stayed away from DuWop's lip products because I heard they hurt, but this lipstick does not claim to plump lips (hence the name "Anti-Venom"); it's just a nice lipstick. I had to put three layers of it on to get the color I desired because it goes on rather sheer, but once it was on it stayed on and it didn't dry out ...read moremy lips or migrate. The creamy formula has a hint of shimmer, but nothing that you couldn't wear to the office.

Duwop antivenon

I received a sample of the antivenon lipstick in figleaf a while ago and really liked it. I looked at the DuWop site and read it's information. Venom lip fixes as they are categorized as venom are to plum up lips...they most likely will sting as they have a mix of I believe peppermint, cinnamon and something else. There is a mix in them that makes them "plump" up your lips. if you go ...read moreto the DuWop site, it will explain it. This line of lipstick is antivenom, thus it doesn't claim to plump up your lips so it's just "regular" lipstick. I do like the color and evidently can't get it on the DuWop site.

Great color but no bite!

The DuWop line has great colors and this particluar lipstick is great as far as wearability, long lasting and color. However, the DuWop company advertises their lipstick as having plumping qualities and I just have not found this to be so. Aside from a mild tingling, the lipstick did nothing to enhance or plump my lips at all. Overall, if you buy it for color or performance as far as wearability, ...read moregreat. However, don't buy it if you think it's going to make you have Angelina Jolie lips, 'cause it just isn't going to happen.
Back
to top