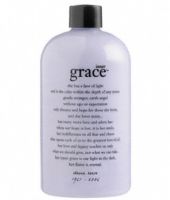 Love this grace

I am a fan of the grace line of fragrances but Inner Grace is by far my favorite. It is a wonderful, subtle feminine scent and it seems to last longer on the skin than the other grace fragrances. Layered with the lotion and body spray, it is perfect....noticeable but not overwhelming.

I use this as body wash and shampoo

I think this is my favorite body wash scent from Philosophy. I don't love the perfume though. What I like about this is that it is creamy but it lathers and the scent is really lovely in the shower. I can use it as shampoo, and it cleans my scalp and does not strip my color from my hair. It rinses nicely and doesn't leave any residue and there is a slight hint of fragrance left behind. Try th...read moreis, but before you try the perfume, spritz some on at a local Sephora to see how it wears. I think the nicest thing that Philosophy makes are their shower gels that you can use as bubble bath and shampoo.

21 Best Soaps

Exclusively from the editors at Total Beauty

Get the Buying Guide to see these top-rated products!

Get it now »

My Favorite Grace!

I have been using Amazing Grace for several years. I was diagnosed with Fibromyalgia in 2001 and found that Philosophy fragrance is the only one I can wear. When Inner Grace was introduced, I was intrigued. The story about Dana Reeve plus the fact that it was purple made it a must-try. I never intend to switch. This is definitely my fragrance. I love the Philosophy shower gels and layering with ma...read moretching body lotion or emulsion is the way I can wear fragrance these days. Inner Grace shower gel is a definite "10" for me.
Back
to top