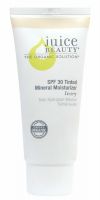 you can love it if you try.

i bought this sunscreen for the fabulous ingredients. it's so hard to find an SPF that doesn't make me feel sweaty and cause me to break out. this one is pretty organic and my skin loves it. it has a wonderful fresh smell, not that typical chemical smell you get from other sunscreens. the downside is that it really isn't very sheer. this is fine if you're going to wear it on the backs of your...read more hands, but when you put it on your face it looks pretty ghosty. i have blended this awesome sunblock with a bit of my own mineral make up to make a shade that perfectly complements my skin tone. it's still not terribly sheer, but i feel like i'm getting great protection from harmful UVA/UVB. also, i don't have to put the make up on when i'm wearing this.

love it!

not too oily -- looks great!

not sheer

this moisturizer is NOT SHEER AT ALL. it's really white! not a good color on ANY skin tone. and it's gonna take a whole lot of rubbing on your skin to make that color go away. it also makes my face sting (i have sensitive skin), and i think it has too many ingredients in it for an organic skin care product. it also smells yucky.
Back
to top