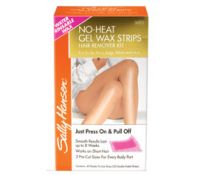 Sally Hansen No Heat Gel Hair Remover Wax Strip Kit
As low as
Didn't work very well

seems that it would remove some hair but not others. It didn't matter how I positioned the strip or which direction I fulled from I never could figure out how to get all the hairs with this.

Love It! Love It! Love It!

This is an excellent product. You have to remember to apply it lightly with the spatula. You can't put a lot on at one time or the muslin strips won't be able to grab the hair. Put a thin layer on and then spread the muslin strip on. Pull up from the bottom and there you go. Here is what you need to do to prep your skin. You can put a hot wash cloth on your skin right before you start waxing, wipe...read more the area dry and dust your skin with a little powder. If you are really sensitive, one trick I use is to spray a little chloraseptic on my skin before I wax and then wipe it off.

Ouch.

Pulled out about two hairs and left behind a ton of sticky goo. About an hour later, my skin was red and irritated.
Back
to top