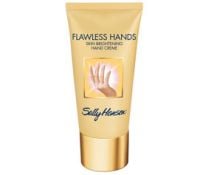 I love this product.

I bought this product at the Dollar Tree. I wish I would have gotten a case of it. It makes your hands feel great. It has sunscreen. I brightens skin on the hands and makes your sun spots or freckles, appear to vanish. Great quality, live up to all expectations and more. I love this hand lotion.

hand flaws age you too!

you gotta use spf on your hands too, especially when you think how old looking hands can make you look so much older than you are! so this cream is a winner b/c how many good spf hand creams are there really anyway? i use this alot, but not when im working b/c the dry time is too long for me to handle any delicate items which a greasy makr might ruin, but i think its b/c of the spf in it that it i...read mores slower to absorb. it has a sunscreen smell to it too, which im not a fan of. it does lighten any little freckles and protects you hands from the suns harm tho! i gave some to a few of my older lady customerfriends, and they remarked that the 'age spots' seem to lighten up pretty fast when they use it regularly! only not a 10 b/c of the spf smell!

Flowless and Fair

I did not really believe that a cream could "brighten" your hands but this one really does. It softens and moisturizes but also seems to smooth out lines and make skin just look um "brighter" like it says. Very reasonable price too and not a bad smell like some hard working products of this type are.
Back
to top