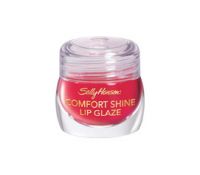 50/50

I'm not sure on this one honestly. First off I bought this home really excited because I got it for a dollar Yay! I love sales, and this looked good and cute. However the minute I opened the package I realized it had leaked all over the inside, so that really bummed me out, I like to be able to keep lip products in my purse of pocket so I can bring them with me to work, so this is a no no for t...read morehat. Next when I opened it I saw there was this tiny little gloss stick that is a great idea but I look like a moron trying to put it on my lips, it's so small and not that great a applicator. Next I was expecting a hint of color, but got none, and it doesn't taste good at all. Plus it doesn't even smell good or look that glossy on my lips. And since it had opened on me, it left this nasty waxy residue on my fingers and it's all over the aplicator itself. Maybe it's just bad luck but I can see how that would happen anyways. It does moisturize though so I'll give it that.

good that you dont have to put your fingers in it

i usually hate the 'pots' of gloss b/c i think its a terrble idea to have to put your fingers in your product, then to you have gloss on our fingers....messy. this one has a little dipstick attached to the lid, which is nice. smells good, tastes good, shiny and feels soothing. better version of the pot'o'gloss.

Not great

It's a nice idea that they included an applicator wand because, as someone with nails, I generally hate lipgloss in pot form. The little brush is too tiny be user-friendly, though, and I lost it pretty early on. As for the performance of the gloss: It's just ok. I had the strawberry flavor. It tastes good, but that may have encouraged me to bite my lips more often than I normally would (I have a n...read moreervous habit of doing that). Anyway, I found that when the gloss wore off, my lips were much drier than usual.
Back
to top