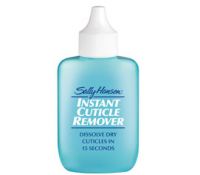 Junk

This doesn't work at all. It just sits there. What a waste of money.

Fast and Effective

I was skeptical of this but it works wonders! My cuticles can get pretty sloppy, especially on my dominant hand, but just a small amount of this removed so much dead skin around my nails. It was amazing. I did one hand at a time, then pushed my cuticles back with a wooden pusher. The squeeze nozzle on this was also really easy to work with, applying only what I wanted where I wanted it. This ...read moredidn't sting at all or smell bad. The smell was actually really light and pleasant. My nails looked so great after doing this. Having such neat nail beds made applying my polish so much easier. A little goes a long way so this bottle should last a good while. Very impressive!

Astonishingly works

My cuticles on both hands are tough and rather thick. I leave this stuff a bit longer than what it says on the bottle (the directions say 15 seconds and no more than 1 minute). It removes cuticles on my fingernails and toenails pretty good (sometimes I still have to use a nipper to take off some leftovers), and my nails look neat and groomed. I don't know if this is just for me, but it seems to wo...read morerk even better and faster after taking a bath. This is a strong stuff. Even though I love the effectiveness and time-saving process, I only use this stuff when I am in hurry.
Back
to top