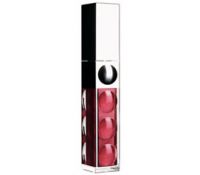 hmm..

Well I bought this at the dollar tree, so that should tell you something, honestly I didn't see a difference in the color of my teeth while wearing this, they didn't seem brighter or to change colour at all really. I bought "Gleaming" which is a brighter pink shade, and I didn't really see a difference in my lips either, this went on as a kind of clear gloss, which really is a nice gloss but not ...read morea lot of colour at all. I did however enjoy the scent of it and I liked how it felt on my lips, not too heavy or sticky, and it didn't dry them out at all. But as for what it advertised? Nothing to be too happy about.

Bright Color

I really like the color of this lip product and it did do a pretty good job at making my teeth look brighter. It wasn't very long lasting but it added a brighter look to my face.

Decent

The colors are nice and it's not too sticky. But it didn't make my teeth look whiter and it didn't last very long. It just seems like a normal lipgloss to me.
Back
to top