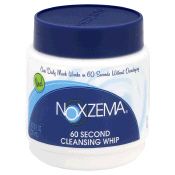 Loved this

I believe that this has been discontinued, which is really a shame. I loved everything about this product-- it spreads on easy and is cool and tingly, then after 60 seconds you rinse and voila-- clean, fresh skin. I have extremely sensitive skin and this was great for me.

Used quickly

I am a great fan of Noxzema products! The cleansing whip has all of the great qualities of Noxzema, but it seemed that I used it up quicker than normal. My favorite it the Noxzema Pump. I put it on the bathroom sink and it's ready to use anytime and it last a very long time.

Noxzema cleansing whip

I love noxzema I've used it since I was 16 yrs. old. Noxzema cleans and refreshes my skin and gives me a cool,lively face. Is a very good value for such a wonderful product.
Back
to top