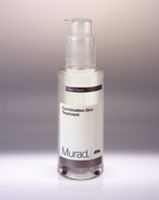 This is my backup toning/balancing product

When I cant get my normal product for Acne/ Pores/ fine lines this is what I use. This product is strong and extremely effective!!! This is not one of those products you see on TV late at night the claim all those dramatic results and never delivers. Its just the opposit it provides the results you would be expecting from this type of product but it doesn't stop their it will out shine almost ...read moreany product on the market today. It will help tighten pores clear up acne, smooth out bumpy skin and balance the ph of your skin. and for those looking for a product that can help reduce fine lines then this is Probably the product for you. I Highly recommend it!!!!!

Helps to fight oil

This product has a good and a bad side. The good one is it definatly fights oil and makes sure it stays like that even when you are not using the product anymore. It seems to be better to use it twice daily at first and switch to once a day. The bad part is it smells pretty strong at first but sinks in perfectly. For me this dried out my skin´after using it for like 6 weeks and started giving me some wrinkles. I stopped using it, the wrinkles disappeared and the oiliness stayed away.

Great For Combination skin!

I love this for my combination skin its really truely has made a bif difference. Helps with dryness, yet is not oily and doesn't cause any problems in my oily areas. Love it!!
Back
to top