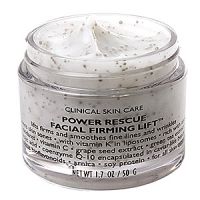 Peter Thomas

Excellent for the skin.

Make the Purchase

I rec'd a smaple of this product and I definitely will be purchasing soon.

Winner of a Product!

I am really critical on what I consider good skin care and what is worth spending my $ on. I found this product to be amazing. It gives me a feeling of circulation is improving to the skin surface immediately which I think is how come I see a glow from using it both immediately and long term. While I have used a # of firming/lift skin care products, this one really is one that delivers. I do like ...read morea # of the PTR line products, but not all of them most certainly that are made for my skin type/needs. I am sure this is expensive to make, but gosh, if ONLY the price could come down a little on this it would help me keep using it. However, with that said, it takes VERY LITTLE of this product daily to get results. I switched from my former lift product which was Dr. Perricone Neuropeptide Facial contour. I liked that former product a whole lot. So for me to replace it with something that costs the same but does not last me as long per container is really going a MILE when it comes to my own spending choices on skin care. I also really like that the entire PTR line TELLS you what is in it as far as the active ingredients. I do get a bit upset when promises are made by lines such as Dr. Perricone, yet there is little to no reveal as to what is in it and certainly not %'s of. Peter Thomas Roth is right up front telling you what neruopeptides (and other ingredients) & percentages used where relevant. He is not so exclusive or concerned of copy cats that he does not give the consumer info we have a right to know. Buy this from a company that you can use it for 30 days and return it if you do not like it. That way if it's not for you, you can return it.
Back
to top