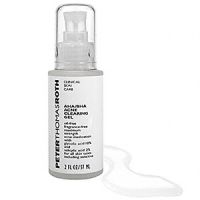 Intensive!

I get hormonal breakouts every month all around my chin and they are such a pain in my end. I take care of my skin very well with good skin products and good behavioral methods. I tried a sample of this and noticed that the next day that my acne was significantly reduced from deeper-rooted acne to small surface white heads. With continued use over the next few nights, I noticed a significant reduc...read moretion in time it takes for my acne to clear up. This has Salicylic acid (Beta Hydroxy Acid) which clears the pores of debris that usually leads to acne in the first place. Then this has 10% glycolic acid which is VERY potent. Glycolic Acid is an alpha hydroxy acid which means you MUST wear some kind of spf in the day!!! You must!! This will make your skin very sensitive and irritated if you expose your skin to sun without an spf. Glycolic acid is a chemical exfoliant which eats away the dead skin on the surface, which REALLY helps reduce hyperpgimentation after your zit is gone. For some people this can be VERY drying, so make sure to supplement it with a good moisturizer. I prefer to use this at night because I think it's too strong to use more than once a day, and that way I can use a thicker night cream to keep it from drying my skin. Although quite potent, it does work well!

A little to drying

This is effective but a little to drying for my skin.

Exclusively from the editors at Total Beauty

Get the Buying Guide to see these top-rated products!

Get it now »

In Love

I used this product for about six weeks. I saw about 60% clearing on my face, with 100% clearing on my forehead. I was only using it once a day, at night. Two weeks ago, I had a very bad reaction to a foundation primer that caused the worst breakout of my life (not hyperbole, it truly was the worst). I had pimples covering every surface of my skin. I increased usage to twice a day, always fol...read morelowed by a gentle moisturizer. While I did have a bit of itchiness and some minor peeling, after two weeks I can almost get away without wearing makeup, I should have been using this twice a day from the start. Truly the most effective product I've ever used (and I have used a lot).
Back
to top