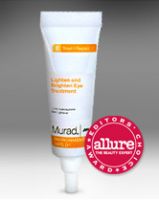 Makes Me Look Awake...Even When I'm Not

You know you have a good product when on a day you don't wear it, people comment about how something is different about you (and not in a good way). Every time I don't wear the Lighten & Brighten Eye Treatment, I always get asked, "Are you tired?" or "Are you having a tough day?" This product gets rid of my under eye circles, reduces puffiness and makes me look refreshed and awake. I love it!

Does more than it says!!

This is the best at fighting dark circles under the eye, but it also gets rid of wrinkles and makes the eye lids look brighter and younger. A MUST HAVE!

Be careful of allergic reactions

I tried this product, and I begun to see a change under my eyes. At first, I thought, I might have begun to break out from the cream. Unfortunately itchy bumps are not the desired result. As it turned out I had an allergic reaction to the product. My doctor was concerned since the reaction was on my face, it could possibly cause breathing problems. So please be careful!
Back
to top