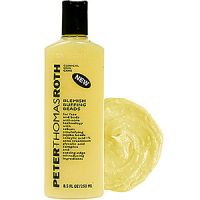 One of the best exfoliators out there

I tried this after the exfoliators that I was buying stopped working on my acne. It smells great and the beads are the perfect size and texture. They are smooth and do not scratch my skin. My skin always feels amazing after I use this, smooth and even. I recommend to use this at night because it allows your night cream to penetrate better and prevents sun damage from hitting your tender, freshly exfoliated skin. One downside is the price, a little expensive for a cleanser

have to use a system

it is an ok product its not a miracle (or i might just be using it wrong) but some of my acne has cleared up but it is not a magnificent product, because when i was in sephora the people who worked there really buttered up the product and i thought it was going to work really well, but they disapointed me a bit. on the plus side after about 4 weeks (4 uses) i saw some improvements, i have noticed...read more that with exfoliaters you have to set up a system so you exfoliate every week and that is what i did and it started improving. so to some up it is and ok product but you have to set up a system for it to work and it smells fantastic like lemons and oranges!

Gentle Exfoilation

My husband and I both use this daily, it"s our in shower must have for clear glowing skin! It is really gentle and keeps pores clean! Even in the harsh winter cold this can be used daily, does an excellent job of preventing blackheads and breakouts.
Back
to top