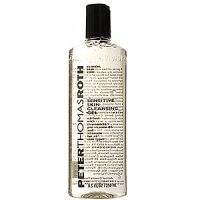 EXCELLENT Cleanser - Essential product

What I love most about this cleanser is that it is a gel and has a good foaming effect without drying sensitive or dry skin! Normally, sensitive/dry skin cleansers are creamy or milky consistency, but I love a good foam; it just feels more effective. This cleanser delivers just that. Good at removing dirt, makeup and oils from the day without over drying.

PTR is the BEST!

I have used this face wash for over a year . I have acne, I get all month long and during that time. I use this wash with my Clairasonic and my pimples are so much less. I don't experience over drying and I don't get that "tight" feeling. If I don't use this wash for more than a day, I can tell. This is pricy but it works so well! PTR is a wonderful brand.

Gentle cleanser

This is a mild gentle cleanser that cleans without overly dring out your face. It removes most of my eye makeup, but sometimes with water proof eye products, I have to use an additional remover wipe. Otherwise, good product for the price.
Back
to top