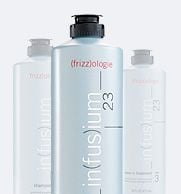 If you want your frizzy hair to lay down.. buy this!

This is my new favorite life changing shampoo! Its a little pricey, but hey when you know theres times you cave in at the salon and buy a little bottle worth $15, this shampoo is worth a try. The first two weeks of using this shampoo I was amazed. You know that new shampoo feeling that wears off. Well my experience lasted quite a while and It was like no other. It left my hair baby smooth I just h...read moread to tell my boyfriend to touch it. My hair is naturally wavy. It gets frizzy volume. Its not tooo bad but I just wish that it would just lay down! After shampooing and letting it air dry my hair did just that. It has like a limp, calming effect. If you have wavy hair like me this is something to enjoy. I swear it even makes your hair faster to air dry, for some reason. I defidently recommend this product. You dont even have to buy the conditioner with it to get noticable results. This is the product for girls with frizzy hair and esp. girls that flat iron there hair alot. This will make life easier for you :) I give it a 9 however... just because Im a girl who likes a little volume... maybe ill experiment and buy the volumizing conditioner.. I dont know but when I do I will comment on that.

I LOVE IT!

I live in Florida and YES, it's the humidity so, this works. I'm so glad it does, theres no need to use any other for a soft feel, good shine and great frizz control! oh and the price, yes, u go Infusium! Thanks!.

Inexpensive Shampoo that actually works!

I swap shampoos frequently. However, I keep coming back to this one. My sister tried it and likes it too, and we have very different hair types. It's not the greatest anti-frizz product ever, but you can't beat it for the price.
Back
to top