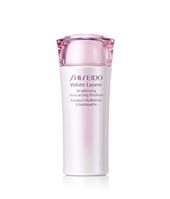 Liquid Satin and Silk

Yes! I'm excited to be the first to review yet another product. This emulsion goes on very silky and I love the way it feels. However, if you slab on plenty, you'll find that it won't completely absorb and for a price tag of $50.00 on an evening moisturizer, would you really want to waste product that way? I wasn't impressed with the White Lucent line I'd have to say but after a couple uses wi...read moreth this emulsion, I found that it wasn't pore clogging or irritating to my skin. Now, that's to say though depending on the level of your skin irritation how well you guys can tolerate fragrance in your product because this has a strong rose petal scent and while pleasant, I've found this quite irritating and reddening for some complexions. The bottle is elegant, sturdy, and has a subtle metallic white pearl sheen. I love how this looks on my makeup counter, especially when it's next to another white lucent product the same stature as this. I recommend this for evening purposes only because I find that this can cause makeup to be very oily or shiny regardless of the formula and it contains skin nourishing and developing ingredients that may make skin more sensitive to the sun. This made my skin so soft and it glowed. It took quite a while to run out of this product and while I'm not so eager to repurchase it because of the high price compared to the rest of my skin line, I find it worth it to have around so when I'm not obsessing about clothes, makeup, handbags, shoes, and every other girlie thing I splurge on, I'll go back to the counter and repurchase this again. As for evening the skin, I did see some improvement, nothing too major or life changing but enough to see that it does have some effect on the skin.

Bring back your natural beautiful skin color

This moisturizer has a beautiful texture. It's very easy to absorb to your skin. You can use this moisturizer both day an night. You just have to remember to put on sunscreen in the morning, it's a MUST. This moisturizer won't help with intense dark spots. For that, you need something stronger like hydroquinone, 10% vitamin c or retinol. This moisturizer will help even out your overall skin tone. ...read moreGet rid off uneven skin tone after tanning. Bring back your bright and natural skin tone. When you use this moisturizer, you need to be patient to see the results.

perhaps its too early to tell

I've hear that you have to use up the whole bottle until you really REALLY start seeing the dramatic results. I have acne scars and after three months i do see them lightening a bit. It doesn't have a bad smell and doesn't feel harsh on my skin. I have acne-prone skin and was glad it didn't make me break out. I guess i have to be persistent, but in the end i'm sure it will be worth it.