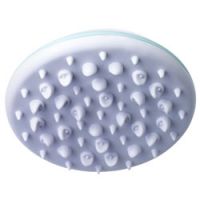 The Body Shop Cellulite Massager
As low as
It's Okay.

Average product, but seems like something you can get in a dollar store. Massage for circulation is beneficial, but it's just average.

Another thing to add to my beauty regimin...

I'm not totally sure what to think about this. Based on the way it feels, I'm pretty sure it improves circulation but I don't think I noticed a difference in the appearance of my skin. Plus, you have to use it for several minutes on each leg, which just adds more time to all the crap that I do when I get out of the shower. And make sure you're using it with a lotion that takes a little while to ab...read moresorb, because otherwise it tugs the skin and kind of hurts. I used this for a few weeks but eventually gave up on it, and now that I have a baby who yells at me the whole time I'm in the shower, this is out of the question.

A nice applicator, but not a cellulite treatment

Good for trying to improve your circulation while applying your cellulite treatment, but other than that I didn't see any benefit of this massager. I don't think it's worth the money, expecially when you can go to a drugstore and get something similar for much less moeny.
Back
to top