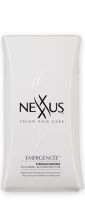 Miracle Worker

Nexxus' products are wonderful, but not as good as they once were when sold exclusively at salons. I used Emergencée before my wedding just to strengthen my hair. Polymers, elastins, amino acids, and collagen go to work to silk even brillo-pad hair, strengthen, nourish, and fortify. I've used it a few times since then when I had a hair disaster, and it did create miracle results.

Softens hair but it has a strong smell

This shampoo helped to undo any damage from my hair straightener but the smell was a bit strong for my liking. I prefer the milder scents of other Nexxus shampoo/conditioners over this one. My hair did feel softer and invigorated but the smell was off putting.

Helped a bit

I purchased this recently to help my poor over processed hair. It's long, almost black and usually very healthy. After deciding to "play" with my hair it saw a lot of peroxide, dye and tints. After it breaking constantly I decided on this product. I also purchased it with a Humectruss deep conditioner which was awful! It seemed to help a bit (even after using the entire bottle) but didn't do what...read more I thought it would. It also made my hair very dry (hence the need for a deep conditioner afterwards). If you do purchase this, skip the Nexxus conditioners that the bottle recommends!
Back
to top