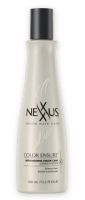 Colorrific

This conditioner is great along with the shampoo. It kept my color looking great. My hair was silky and shiney after a month of using this product. A great buy.

A true fan

I used and loved Nexxus products for years before moving the 45+ miles to be with my (now) husband several years ago. I have very fine, frail hair (medium thinness) and Nexxus was (and remains to this day) the only product that ever made my hair soft and resistant to damage. Even though my stylist didn't sell Nexxus products she insisted I continue using them and she'd schedule extra time simply...read more to play with my "kitten soft" hair... a hair stylist - that touches hair all day long! For awhile after moving down to be with my husband, due to unforeseen tragic circumstances, I was forced to try to find a lest costly alternative. My hair hated every single attempt. In fact it was breaking and feeling so scratchy vs the strong, elastic soft hair that Nexxus brought me I was convinced it couldn't be JUST the shampoo/conditioners, that it had to be a change in the water, too. But here I am, back with my beloved Nexxus products, years later and after many even more expensive alternatives and my hair is once again kitten soft. Color Ensure also keeps my color VERY well, better than any other conditioner for color treated hair I've bought, and it doesn't weigh my hair down like most products. Within days of using it and it's shampoo counterpart, the years of damage my hair had suffered from NOT using it seemed to just simply melt away. I LOVE this product. My ONLY complaint is that I wish it came in a bigger bottle than the thirteen and a half oz bottle or that I didn't have to use as much of it as I do (only SLIGHTLY more than a "normal" amount, however) :)

Love it!

By far the best conditioner I've ever picked up at my local drugstore. It preserves color as long as any pricier brand I've bought, and I like the scent and creaminess!
Back
to top