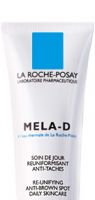 La Roche-Posay MELA-D SERUM
As low as
Tough

My skin broke out horribly! I'm a fan of La Roche-Posay products and have always had good results with them. That said, I've given this product several 'second chances' and every single time my skin broke out. Unfortunately, this one didn't work for me.

Didn't work at all - suspect its a placebo

I have dark spots due to sun over-exposure and from breakouts. I've tried a few products and this was one of the more expensive ones. I used this cream religiously for 4 months, morning and night and really, nothing happened. Very dissapointing...

seems to be working

i've been using mela d for about 2 years now. i have hyperpigmentation on my face and this seems to be breaking it up. it doesn't work if you continue to be exposed to the sun. also, you really must combine this with the use of a sunscreen or any gains will be lost. even when i use 30+ SPF, if i'm out in the sun the hyperpigmentation comes back. as i said, this seems to be doing the trick. but i will continue to experiment with other treatments for brown spots.