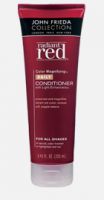 good conditioner, but my red still goes

Its a good conditioner, it leaves my hair nice and easy to brush but it does not protect anything my color goes same way at it does it with a normal shampoo and conditioner

terrible

This shampoo and conditioner made my hair feel dry. It also caused me to have split ends (which I don't usually have since I don't use heat styling). I also have to use a ton and my hair doesn't feel clean. I don't think it helped my color, either, if I'm honest. It had the texture of a lice shampoo: sticky, no lather. I switched to Pantene and I've gotten more complements on the shine and smell.

could take it or leave it

This product is great for conditioning. I am a natural redhead and it did nothing to "magnify" the reddness of my hair. I will say that it did make my hair look healthier, just not more red.
Back
to top