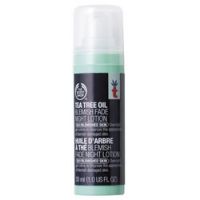 Minor results so far

I am using this cream for the blemishes my breakout have left me. It seems as though they are slowly fading but I haven't been using it too long so I guess I have to wait to find out if it'll totally deminish all of the marks.

Best moisturiser!

This is so amazing!!! I use it after exfoliating and washing and it makes my skin feel really soft and fresh. It is a very light weight, non-greasy formula that spreads very easily so you only need a teeny bit. It's worth every cent!

Not good for the impatient

This was highly recommended to me by the saleswoman in The Body Shop, and since I love the company and its social awareness (free trade and no animal testing), I figured I'd purchase it in spite of the pretty ridiculous cost. The tea tree oil scent is quite prevalent, so if you have a sensitive nose, you might want to steer clear or else it might keep you awake. I've used it almost every night for...read more almost a month and haven't noticed any changes in my blemishes, but I won't give up hope till the entire bottle is empty. I will say that an upside is that you need to use maybe a pea-sized dollop for your entire face. It's also non-greasy and dries fairly quickly.
Back
to top